Revolutionize Your Kitchenwith the MagicalButter MB2e
Elevate Your Culinary Experience with theGame-Changing MagicalButter MB2e
Shop Now
Effortless Herbal Infusions In Minutes
Shipping Date: Late September
Regular price
$300.00
Sale price
$224.95
Unit price
per
25% OFF
Sold out
---
View full details
Meet The Magical Butter Machine
Fully automatic, microprocessor-controlledprogram sequences

Experience the future of culinary innovation with the Magical
Butter Machine, boasting fully automatic, microprocessor-controlled program sequences that effortlessly craft gourmet delights. Unlock precision and convenience like never before in
your kitchen adventures.

Integrated digital thermostat & sensors bringlaboratory-grade temperature controls

Experience precision and innovation with the Magical Butter Machine's integrated digital thermostat and sensors, providing you
with laboratory-grade temperature controls for perfect infusions
every time. Elevate your culinary creations to a new level of excellence with this advanced technology at your fingertips.
Stainless Steel Pitcher
The MB2e MagicalButter Machine, featuring a robust stainless steel pitcher, offers a combination of durability and functionality that's second to none. Craft your culinary creations with confidence in a premium vessel designed to withstand the test of time, ensuring delicious results with every use.
Makes 2-5 Cups Per Cycle
Unlock the power of culinary creativity with the MB2e MagicalButter Machine. With the ability to produce 2-5 cups per cycle, it empowers you to effortlessly craft delectable infusions and recipes in batch, turning your kitchen into a hub of culinary excellence.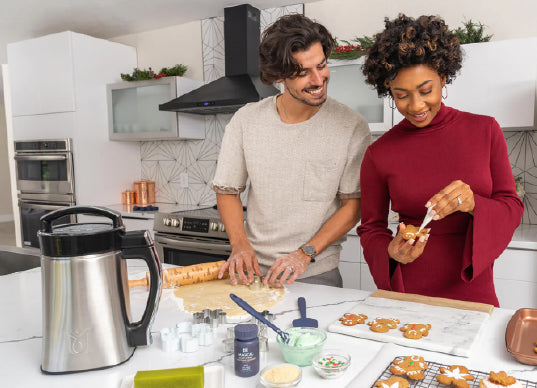 Self-Cleaning!
Say goodbye to the hassle of post-cooking cleanup with the MB2e MagicalButter Machine's convenient self-cleaning feature. This kitchen marvel not only simplifies your culinary adventures but also takes care of the mess effortlessly, making it a must-have tool for both novice and experienced chefs alike.
Magical Bundle Deals
Save more with Our Ultimate Bundle: Get the Best Value
for Your Money Today!
Join over 500,000 Customers havetaken control of their cooking
We've empowered over half a million customers to take control of their kitchen
by making it easier to cook delicious meals. You can too!

Magical Fans Love The Versatility
"Enthusiastic fans of our magical product adore its remarkable versatility, making it a
must-have for countless creative applications. From culinary masterpieces to DIY projects, its
adaptability knows no bounds, fueling endless possibilities."